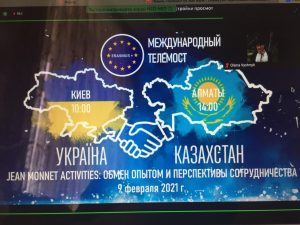 On February 9  members of the project team "Jean Monnet Chair: European Diplomacy " took part in  the international teleconference "Ukraine-Kazakhstan: Jean Monnet Activities: Exchange of Experience and Prospects for Cooperation ". The video link was organized by the Erasmus + National Office in Kazakhstan, the Erasmus + National Office in Ukraine and the Ukrainian Association of European Integration Teachers and Researchers.
About 200 teachers from universities in Kazakhstan and Ukraine took part in the teleconference. During the teleconference representatives of the two countries, implementing projects within the framework of Jean Monnet Activities in their speeches compared Kazakhstani and Ukrainian experiences, exchanged practical advice and gave recommendations on building up close cooperation in the field of European studies.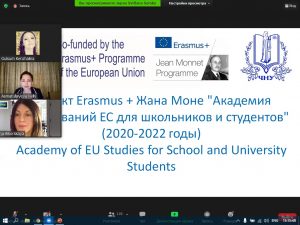 A member of the project team Kenjalina Gulsum shared her experience in the implementation of "Jean Monnet Chair. European Diplomacy ", emphasizing the most important points of teamwork to achieve the goal of spreading the ideas of European integration and diplomacy.