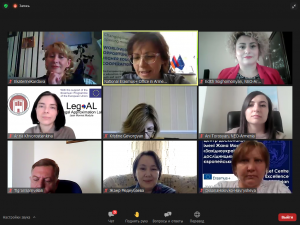 On April 9 2021  members of the project team "Jean Monnet Chair. European Diplomacy"  Zh. Medeubaeva ,  R. Tashtemkhanova,  R. Zhanbulatov,  G. Kenzhalina took part in the session on Jean Monnet's Activities within the framework of informational webinars on Erasmus +  organized by the National Erasmus + Office in Armenia.
The event was attended by about a hundred participants from such countries as Armenia, Georgia, Ukraine and Kazakhstan. Speaking to the participants of the session  the coordinator of the project "Chair Jean Monnet. European Diplomacy "Zhanar Medeubaeva shared her team experience in applying for Jean Monnet's projects and implementing the set goals and objectives starting from 2018.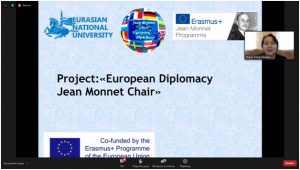 A thorough exchange of views on the fundamental and important issues of applying for  Jean Monnet Modules, Сhairs and Center of excellence  took place during the session.