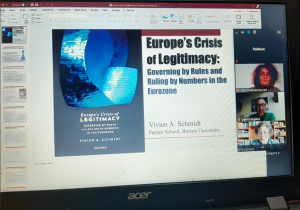 On November 25, 2020, member of the project team Zhanbulatova R.S. took part in an online seminar organized by the Center for European Studies (SciencePo, Paris), dedicated to the discussion of the problems analyzed in the book of the seminar speaker Vivien A. Schmidt.
Interesting questions were discussed at the seminar. For example, should the ways of resolving the debt issues of southern European countries be considered as manifestations of the EU dictate? Was the European Parliament just a negotiator with little influence or a potential equal partner?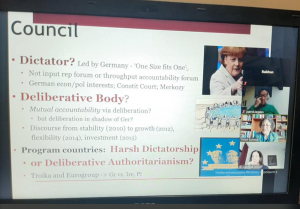 It should be noted that Vivien A. Schmidt is a venerable professor of political science and international relations at the School of Global Studies at Boston University, head of the Jean Monnet department at BU. She is also the co-founder of the Center for European Studies at Boston University. Her book Democracy in Europe, published by Oxford University Press in 2006, was named by the European Parliament as one of the "100 Commemorative Books on Europe". The new book is "Europe's Crisis of Legitimacy. Governing by Rules and Ruling by Numbers in the Eurozone ", published in Oxford in 2020, is dedicated to the eurozone crisis, which, according to W. Schmidt, was a crisis of EU legitimacy.
W. Schmidt is one of the founders of "discursive institutionalism", one of the newest neo-institutional theories.