A meeting of the scientific seminar was held at the Faculty of International Relations on December 2 of this year. The main speaker was a member of the project team "Jean Monnet Chair. European diplomacy" Professor R. Tashtemkhanova.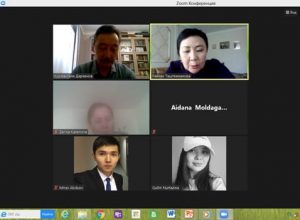 The topic of the report is related to the analysis of traditional and new threats to European security. Speech by Professor R.M. Tashtemkhanova was accompanied by a presentation of slides containing the materials of opinion polls presented by leading European research centers.
A clear illustration is the results of a sociological survey to identify key security threats. The poll was conducted in 14 European countries. The main threats include climate change (70%), the spread of infectious diseases (69%), terrorism (68%), cyberattacks from other states (68%), the proliferation of nuclear weapons (61%), the state of the international economy (59%), global security (53%), long-term conflicts between countries and ethnic groups (48%), an increase in the influx of migrants (40%).
The seminar participants were also presented with a video about a new threat to European security – the coronavirus (COVID-19) pandemic.
At the end of the scientific seminar, questions were asked to the speaker, an exchange of views took place.