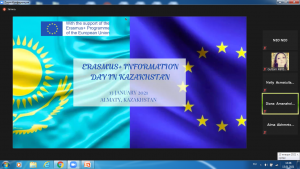 On January 13 the project team  "Jean Monnet Chair. European Diplomacy" took part in the Erasmus + information day in Kazakhstan, organized by the Ministry of Education and Science of the Republic of Kazakhstan, the Delegation of the European Union to Kazakhstan, the Executive Agency for Education, Audiovisual and Culture of the European Commission, the National Office of the Erasmus + Program in Kazakhstan.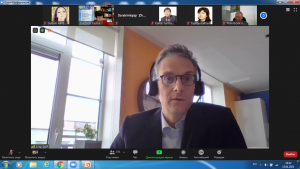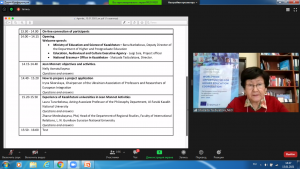 The audience for the participants was large; these are more than 200 participants from all regions of the Republic of Kazakhstan. At the event specifically dedicated to Jean Monnet projects, welcome speeches were made by Edith Gencher, Jean Monnet Projects Coordinator in  the Education, Audiovisual and Culture Executive Agency of the European Commission and  Luigi Saia, Country Coordinator for Erasmus + Programs.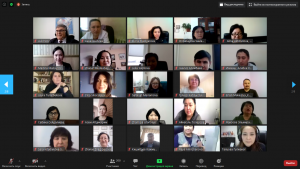 Following  speakers brought to the attention of the participants important information of a conceptual and accompanying nature in the framework of obtaining and implementing Jean Monnet's projects. During the event, an exchange of views took place on the preparation, filing of applications for such Jean Monnet's actions as a module, a chair and networks, centers of excellence.
Project coordinator Medeubaeva Zhanar and project team member  Kenzhalina Gulsum shared their experience in submitting applications and implementing the project  "Jean Monnet Chair. European Diplomacy"  at the Faculty of International Relations of the L.N. Gumilyov ENU since 2018.